Chamber Member SPOTlight Tour: Iron Smoke Distillery
Thursday, October 6, 2022 (3:30 PM - 4:30 PM) (EDT)
Description
*In-Person Event*
Chamber Member SPOTlight tours take you to Greater Rochester/Finger Lakes' hottest businesses on their own turf. In their own words, business leaders will share their success stories – right where the action happens. These behind-the-scenes tours are a perfect way to gain perspective on the industry segments powering our region's economy.
Join us for our Chamber Member SPOTlight tour of Iron Smoke Distillery.
It all started back in 2011, in the backyard over some whiskey and a loaded smoker when our founder and chief trailblazer – musician Tommy Brunett, came up with the concept of combining two great American past times: great bourbon/whiskey making with an added subtle hint of Applewood BBQ's smoked goodness.
Iron Smoke's internationally acclaimed NYS farm distillery in Fairport, NY is where the magic happens. The farm folk within a crow flying distance to their grain silos dump in their freshest and finest where their master distiller and crew ever so lightly smoke some of the grains on their handmade smokin' machine. The apple wood smell is savored for miles by the locals.
They have giant brass tub stills shipped all the way from the underbelly of Kentucky from their good friends at Vendome. They swill swirls, spin, and churn until only the finest of the finest is aged properly, bottled, and delivered to your own local watering holes. Come - whiskey up and enjoy!
Since space is limited, only 2 per company may register.
Greater Rochester Chamber member tour conducted by the team at: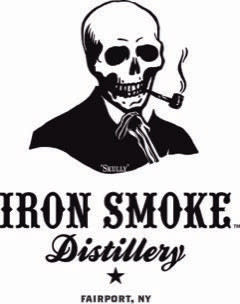 Have a cool Chamber member location that you would like us to take you next?

Contact events director, Susan George at Susan.George@GreaterRochesterChamber.com, and we will do our best to make it happen!
Pricing
Complimentary for Greater Rochester Chamber Members. Since space is limited, only 2 per company may register.
Iron Smoke Distillery
111 Parce Ave #5b



Rochester

,

NY

14450

United States



Thursday, October 6, 2022 (3:30 PM - 4:30 PM) (EDT)
Categories
Chamber Member SPOTlight Tours: FLX Success Stories