Rochester TRENDS: Taking Action Against Targeted Violence
Thursday, July 28, 2022 (8:00 AM - 10:00 AM) (EDT)
Description
*In Person Event*
Is your organization ready to act against targeted violence? Ignoring potential threats, or lack of preparedness, can jeopardize your employees safety and potentially ruin your company brand forever.
Targeted violence is premeditated violence and is usually directed at a specific individual, group, or business. A perpetrator of targeted violence typically responds to a perceived grievance or acts on behalf of a particular ideology. Targeted violence is different from impulsive, reactive, or emotional acts of violence. Some examples of targeted violence are school shootings, workplace violence, domestic violence, stalking, and terrorist attacks.
We are inviting business leaders, elected officials, school superintendents, and decision makers to join Greater Rochester Chamber as we partner with the Rochester Threat Advisory Committee (ROCTAC) at this Rochester TRENDS event featuring experts on how you can keep your employees and organization safe from potential targeted violence.
This two-part presentation will center around an active-killer event:
Prevention phase (ROC-TAC)
Chaos & Recovery phases
ROCTAC, built in partnership with social services agencies, the private sector, and regional law enforcement officials, collaborate to prevent acts of targeted violence before it happens.
Featured Presenters:
Todd K. Baxter, Sheriff, Monroe County Sheriff's Office
Michael Fowler, Chief Deputy, Monroe County Sheriff's Office
Andrew Lehman, Manager, Worldwide Corporate Security, Kodak
Joseph Testani, ROCTAC Program Manager, Federal Bureau of Investigation (Retired, 32 years)
Greg Wildman, Sergeant, Monroe County Sheriff's Office, ROCTAC Coordinator
Discussion Facilitated by:
Aubrey Zamiara, Psy.D. Director, Counseling Center & Disability Services, Monroe Community College
Join us to learn…
How to make our community a safer place to learn and work.

How to identify the different types of violence occurring in our community.

Why an employee might commit an act of targeted violence.

How to identify the warning signs of someone who may be planning on committing an act of targeted violence.

How to prepare your company to deal with a threat of targeted violence.

How ROCTAC can help you deal with a threat of targeted violence.

What to expect when you connect with ROCTAC.

How we could coordinate, communicate, and cooperate with one another during an active threat case in your area of responsibility.
Presentation brought to you by:


Program will begin promptly at 8a. Please arrive between 7:30a and 7:45a for networking and light breakfast before the program.
Seats are LIMITED. Register Now.

Thank you to our Rochester TRENDS 2022 Series Sponsor: Harris Beach
Greater Rochester Chamber also acknowledges the generous support of our 2022 All Access Event Series Sponsor: Indotronix Avani & Chase
About Rochester TRENDS event series:Our member organizations need to be on the cutting edge to succeed in today's fast-paced and competitive environment. Topics, and speakers, featured under Greater Rochester Chamber's Rochester TRENDS event series is created to bring awareness and understanding of the latest business/community trends and current information, strategies, and happenings.
If you like to share your thoughts on any trending topics, invite expert speakers, both national or local, that could be featured under our Rochester TRENDS event series, please contact our events director, Susan George at Susan.George@GreaterRochesterChamber.com. We value your feedback and input to ensure we are bringing you informative events that benefit our members.
Sponsors
2022 Rochester TRENDS Series Sponsor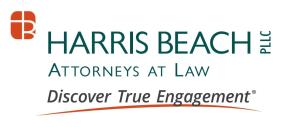 Harris Beach PLLC
2022 All-Access Event Sponsor

Chase

Indotronix Avani
Pricing
Complimentary for Greater Rochester Chamber members, friends, and community partners:
Light breakfast (Coffee, Tea, Water, Mini Muffins, & Parfaits) will be served to our attending guests.

90-Minute in-person informative session you do not want to miss.
The Paychex Theater at Strong
One Manhattan Square



Rochester

,

NY

14607

United States



FREE parking in the garage!
Thursday, July 28, 2022 (8:00 AM - 10:00 AM) (EDT)
Categories
Rochester TRENDS: Chamber Featured Speaker Series